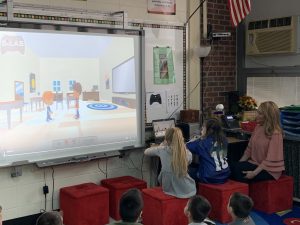 Check out our newest SiLAS User Spotlight educator!  Terry Brylawski is a 1st and 2nd grade special education teacher.  Keep reading to find out the benefits she is seeing in the classroom!
In what capacity do you work with children/young adults? (ex. Teacher, Administrator Counselor, Mental Health Worker, etc.) – Special Education Teacher

In what setting do you implement the program? (ex. General Education Classroom, Special Education Classroom, Small Group, One on One, etc.) – Special Education Classroom

What was your first impression of SiLAS? – I was excited to implement a social skills program that has the capacity to make it a game-like experience for them. I was impressed with the amount of skills and lessons included in the program.

How do your students/clients feel about SiLAS? – The students love this program. It is often the favorite part of their day. They like setting up situations in various settings and choosing their characters.

What component of the curriculum is your favorite?- I like the way the program is broken down into sections and there are a variety of extension activities and suggested texts to read that correspond to the skill being addressed.

What has been your favorite SiLAS story or experience? – My favorite experiences are when we can use the program to address a real-life situation from the class where they can make a movie showing both the real life way they handled the situation and how they would handle it next time.

Is there anything else you would like to share?  – Some of my students are quiet and the program has helped them gain more confidence in speaking in front of the class because they can hear their tone and expression  and have improved their ability to present in front of the group. I have seen improvement in their ability to speak in front of a group.