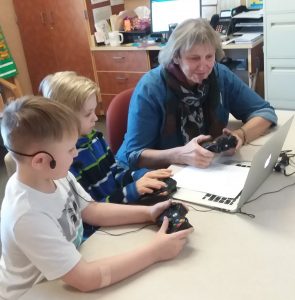 Meet Kelly Metzger, the person behind this edition of SiLAS User Spotlight. Kelly is one of our earliest users. She has been implementing our curriculum in both Tier I and Tier II settings. Below are Kelly's thoughts on SiLAS:
My Name is Kelly Metzger, and I am the School Counselor in an Elementary K-5 building. I use SiLAS in general education classes, with small groups, and one on one.  Some of the things I use the program for are bullying, conflict mediation and behavior modification. When I was introduced to SiLAS I was very excited about the fact that it used gaming controllers because these are things that kids can relate to. The kids love the lessons, the script writing and recording. They are so proud of themselves when we view the finished video. One of my favorite stories is about a student I worked with on behavior modification. We did lessons on what the desired classroom behavior would look like. Then we wrote a script with the behavior he was exhibiting in class. We then wrote a script with the desired classroom behavior. The interesting thing about this story was that the student did not want to record the script with the problem behavior that he exhibited in class. He said it was too embarrassing! It was a quite an "aha" moment for the student and for me. I think SiLAS is a great tool and I am so thankful that I have the opportunity to use it.
What is Specifically Designed Instruction?
Specifically Designed Instruction (SDI) – SDI is the required instruction developed specifically for a student eligible for special education supports and services.
What does SDI Actually Mean?

Each student eligible for special education services and supports receives assistance in order to provide the greatest opportunity for advancement in both academic and functional skills.

The intent of SDI is to "close the gap" between disabled and nondisabled peers.

Students in special education must receive both "high quality" instruction and services.
CASEL Competency: Self-Management
Effectively manage stress, control impulses, and motivate yourself to set and achieve goals.
SiLAS Self Management Lessons:
Patience

Goal Setting

Power of Yet

Growth Mindset

Perseverance

Coping Skills