Happy New Year!  To start the new year off right, we wanted to share some recent updates as well as offer helpful pointers! The points below will help make your social animations that much better!
New Backgrounds! 
SiLAS loves receiving suggestions and questions about our platform. You asked, and we listened! We added more backgrounds. SiLAS now includes the following settings; the classroom, the inside of the school bus, a restaurant and a restaurant kitchen. As always, keep the feedback coming! If you find you are having issues, reach out and we will get right on a fix.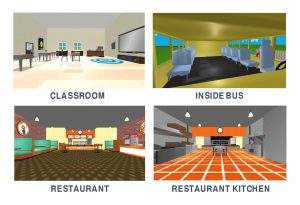 The Keyboard!
Did you know users have the option to use the keyboard to perform the same functions as the controller? With the keyboard, users are capable of choosing two avatars when creating animations. We also surveyed a sampling of learners for their input as well. Many students already use the keyboard to play PC games like Minecraft and Fortnight.  If you believe the keyboard would improve speed and ease of the platform, click the link below to download the SiLAS Keyboard Cheat Sheet.  You can also find it in the Teacher Resources tab.  You may also want to consider starting users on the keyboard with the opportunity to "graduate" to the controllers.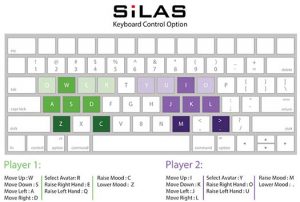 https://www.silassolutions.com/images/uploads/SiLASKeyboard.pdf
Microphones!
Over the course of the last couple years we have made movies with thousands of students of all ages and abilities.  Our goal has always been to ensure recordings are of the highest visual quality and sound. We want to make recording easy and sound as good as possible for everyone.  We found using this new recording technique to be both fun and simple. Because of this, we couldn't wait to share it with each of you! Please Click the link below to see 4 year old Spider-man record his movie with ease!