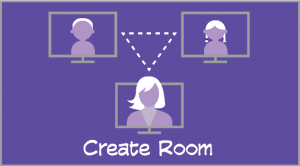 Multi-Player = More People + More Places + More Fun!
We have been actively listening to the needs of our education partners, like you, and continue to develop and enhance both the in person and remote SiLAS user experience.
SiLAS' Multi-Player "Create Room" feature will allow students and teachers to create animations no matter the educational setting! The steps to connect are simple; first, the teacher creates a secure link. The links are then sent to the students. The last step is to have students click the link on their own devices (wherever they may be) and record their social animation!  All that is needed is a computer with both a keyboard and internal microphone. Check out the Create Room tutorials below. We promise you will be ready to start creating social animations from anywhere!
Create Room Tutorial
Create Room In-School
Create Room Google Hangout / Zoom
Even Avatars Wear Masks!
As art imitates life, so does SiLAS.  Silas and all his friends have the option to mask up.  Users choose the mask by selecting the mask option directly under the microphone setting.
What People Are Saying
Shout out to Mrs. Norman and Mrs McManus from Asbury Park, NJ!  We love when teachers show us their creative uses for SiLAS!  Follow us and post the great things SiLAS makes happen in the classroom (or livingroom)!
Share the Love
All WE need is love! This SiLAS team has been feeling the love from educators, students and families! Love may not be ALL WE need, but WE can never get enough! STAY TUNED to see how YOU too can "Share the Love!"

Rewards & Recognition
We are elated and honored to have been shortlisted for Reimagine Education's Sustainability Award. Known as the "Oscars" of education, this global competition and conference showcase innovative approaches that enhance student learning outcomes and employability, Winners will be announced during next month's Reimagine Education Week.
Stay Connected!
We have relaunched our social media channels! If you aren't already following us, NOW is the time!  We will be sharing the latest news, updates, and engaging in important conversations with all of YOU.  And we promise to make you smile too!