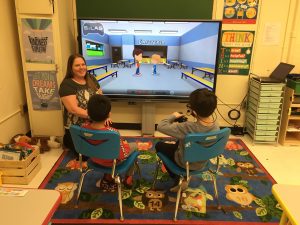 SiLAS Spotlight: Meet Cheryl Fitzgerald, our newest SiLAS Spotlight practitioner. Cheryl is a Speech Language Pathologist.  We love the creative and meaningful ways SiLAS is implemented to help students in everyday situations.  Below are Cheryl's thoughts on SiLAS:
In what setting do you implement the program? (ex. General Education Classroom, Special Education Classroom, Small Group, One on One, etc.) 
I work with students in small groups and individual sessions.
2.   What was your first impression of SiLAS?  
When our district first introduced SiLAS, I was very eager to try it with my students. I felt like there was finally a system that would target exactly what my students need to work on most.  When we had our introduction training with Chris, I was amazed at how much was covered in the curriculum and how many things you could do with the program.  
3.  How do your students/clients feel about SiLAS?  
They are very motivated by it.  They really love working together to create the scripts and then record their movie.  I think their favorite part is watching the movie back and sharing that with their classroom teachers and peers.  They also feel a confidence boost when they can "teach" the skills to other students.
4.  What component of the curriculum is your favorite?  
I love that it is broken down to target specific areas and is user friendly.  I think it is great that it covers such a variety of different age ranges/abilities and that it has so many things I haven't seen from other materials I have.  
5.  What has been your favorite SiLAS story or experience?  
I had two students make a video about what makes them angry.  They came up with when someone touches them on their back. They created the scripts for the "wrong way" and the "right way" to handle the situation.  They loved acting out the wrong way and were able to identify that it wasn't the appropriate way to handle the situation. One of the students (who has been working on improving his intonation) really got into character and expressed himself so well and I feel like he got so much from hearing the movie playback.  He was very proud of himself.
6.   Is there anything else you would like to share?
I recently used SiLAS to prepare some students for their school play.  We talked about all the speech skills they would need to use during their performance and we were able to practice these skills with SiLAS.  The students could watch their movies back and see if they spoke slowly, said their target sounds correctly, and used a louder volume. When they watched the movie back, they were reinforced with the quality they demonstrated.  They loved showing their teacher the "right way" vs the "wrong way" to perform. It's great that the software can be used for many different targets.